A Letter to our New Freedom Fest Community:

First let me say that we are all disappointed the fest has been cancelled. The decision by the Board of Directors was not an easy one and made only with the best interest and safety of our community in mind.

The COVID numbers in Pennsylvania and York County have been steadily increasing! As of this past Saturday, September 11, 2021, the cases per day are as follows:
5,131 New cases in the State of Pennsylvania
3,984 7-day average cases per day
248 New cases in York County
The school districts are seeing a rise and numerous students are in quarantine. The Governor has recently issued a school mask policy out of grave concern.

What is the risk? There have been comments that this is an outside event and there is no risk. This is a family festival with focus on the kids. There is a bounce house. Clearly kids would be on top of each other there. There is face painting. The face painters would have hands-on contact with a large number of kids. Kids work close together in pumpkin painting and in the very popular kids games area. The level of risk of exposure can be debated but as children are not vaccinated, it is quite possible that the virus could be transmitted.

There have been comments that other sporting and music events are taking place. Why not the fest? Ticketed venues are able to enforce a COVID policy with most requiring proof of vaccination and/or a negative test and most still require masks. As the New Freedom Fest is a FREE walk-in event, there is no way to enforce a proper COVID policy like this. No matter how likely, should there be a negative event, New Freedom Heritage and New Freedom would stand at risk and possibly the management team, too.

The New Freedom Fest has been growing bigger each year. I have been working on this fest for over 15 years along with a very dedicated group and founders of New Freedom Heritage. When it started, we had a sheet of plywood on the field as a stage and there was no park yet. Our attendance was about 50 people. The fest started with the mission to bring our community together to provide a SAFE environment for families to gather and celebrate our rich New Freedom history. Through hard work and responsible management, the fest has grown with attendance in the thousands. 100% of the proceeds are put back into our community, not into payroll.

All through volunteer efforts, New Freedom Heritage has enhanced our town and community. Accomplishments include:
– Created a community park
– Created a museum that houses and protects articles of New Freedom history
– Created a stream rehabilitation project
– Continues to provide safe and family orientated entertainment for the community including, the New
Freedom Fest, movie nights, picnics and a speaker series.

It is with the same commitment to safety and the enhancement of our community that I believe the board members made their decision to cancel. If even one child would get sick or even worse, the loss would outweigh the benefit.

We value our loyal Vendors! In addition to health concerns, the decision to cancel the fest took into account the safety and level of comfort of our vendors. We had 2 major food vendors cancel. The pony rides cancelled. Numerous vendors were expressing concern and we were expecting other cancellations. The successful production of the event was even coming into question.

I am the fest manager and not a voting board member and so I did not vote on this. I do, however consult to the board and believe that for the reasons stated above, it was the best decision and is in the best interest of all concerned.

The misinformation on social media has been a bit disconcerting. Some of the posts have been mean-spirited and are contrary to the mission of New Freedom Heritage and the New Freedom Fest it produces. It is important to note that New Freedom Heritage and our Fest committee members are 100% VOLUNTEER based. No one gets paid. That includes the 11 person Board of Directors. We donate our time and efforts to enhance our community. We make decisions with safety in mind FIRST and always with the best interest of our community. Please understand that mean spirited comments and actions are disrespectful to New Freedom Heritage and the many who have put hundreds of hours towards our efforts.

There will be future fests. We hope that sometime in the future the virus situation will be in better control and that we can all proceed without fear of risking the safety of our family, friends, community and our volunteers.

Many, many thanks to all of our volunteers, sponsors, vendors and all that have helped to make the New Freedom Fest the special event that it has become. With a positive community spirit, we hope it will continue for years to come.

We are always looking for volunteers and always seem to be short on help, especially this year in this COVID environment. If you have talents to share, we welcome all our neighbors to join in the effort. Let your voices be heard as part of a great community effort.

Art Wachter, Fest Manager
---
New Freedom Heritage is a 503c not-for-profit organization dedicated to preserving the rich history and culture of New Freedom, Pennsylvania. It was founded on June 15, 2004 by several members of the New Freedom Community Gardeners whose hope was to promote a better future for the community. That is still an important part of the mission today.
Since it's inception, New Freedom Heritage has had a significant impact on the community. Activities and projects have included:
– Annual New Freedom Fest More
– Creation of the Freedom Green Community Park More
– Creation of the Heritage Museum of New Freedom and an interactive kiosk
– Summertime free outdoor movie nights
– Town murals
– Recording local history
– Monthly speaker series
– Stream rehabilitation
– Members picnic on the Green
---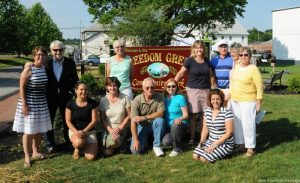 See pictures of the Freedom Green ribbon cutting ceremony. Pictures here