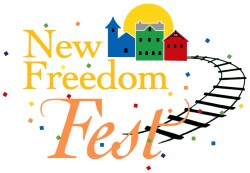 Saturday, September 16, 2023, 10AM -5PM
New Freedom Fest is an old-time "festival of small town life". It includes 3 stages of music, dance and entertainment, arts and crafts, animals, food, games, an art tent with pumpkin painting, and much, much more – all centered around the beautiful and historic town of New Freedom, Pennsylvania.
Visit the FEST page for details.

---

New Freedom Heritage is a 503c not-for-profit organization dedicated to preserving the rich history and culture of New Freedom, Pennsylvania. It was founded on June 15, 2004 by several members of the New Freedom Community Gardeners whose hope was to promote a better future for the community. That is still an important part of the mission today.
Since it's inception, New Freedom Heritage has had a significant impact on the community. Activities and projects have included:
– Annual New Freedom Fest More
– Creation of the Freedom Green Community Park More
– Creation of the Heritage Museum of New Freedom and an interactive kiosk
– Summertime free outdoor movie nights
– Town murals
– Recording local history
– Monthly speaker series
– Stream rehabilitation
– Members picnic on the Green
---
See pictures of the Freedom Green ribbon cutting ceremony. Pictures here
---
Our Facebook Feed