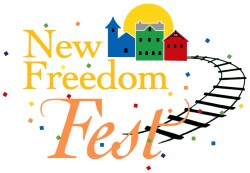 Saturday, September 18, 2021, 10AM -5PM
New Freedom Fest is an old-time "festival of small town life". It includes music, arts and crafts, animals, food, games, a pie eating contest, an art tent with pumpkin painting, and much, much more – all centered around the beautiful and historic town of New Freedom, Pennsylvania.
Fine Art & Crafts
Local artists and craftsmen including jewelers, potters, photographers, weavers and sculptors, will be selling their work and demonstrating from 10am to 4pm.
There will be kid's games ($5 lets you play all day), a pet parade, great food from local restaurants and world-class live entertainment at the Freedom Green. Local non-profit organizations and businesses provide information and offer fun insight into small town life. Free parking and free admission make this a day fit for any budget.
Heritage Stage
Schedule of artists coming soon!
10:00 AM – Stu Miller
11:00 AM –
12:00 Noon –
1:00 PM – Michael Arthur
2:00 PM – Hank Imhof
3:00 PM – John Kingman Smith
4:00 PM – Robin & Linda Williams
For more than four decades now, Robin & Linda Williams have made it their mission to perform the music that they love, "a robust blend of bluegrass, folk, old-time and acoustic country that combines wryly observant lyrics with a wide-ranging melodicism." Today some might call it "Americana," but these two revered music masters were living and breathing this elixir 20 years before that label was turned into a radio format. You may remember them from Garrison Keilor's Prarie Home Companion fame.
As The Washington Post put it, "The Williamses are able to sum up a life in a few details with moving completeness." The list of artists who have covered their original songs include some of the greats of country music, names like Emmy Lou Harris, Tom T.Hall, George Hamilton IV, Tim & Mollie O'Brien, Mary Chapin Carpenter, Kathy Mattea and The Seldom Scene. One of their most requested songs, "Don't Let Me Come a Stranger," has been recorded by the well known Irish singer, Mary Black. robinandlinda.com

Freedom Stage
Schedule of artists coming soon!


The Liberty Stage – Sponsored by EMC
Schedule of artists coming soon!


All Day Fun for the Kids
All Day Kids Games and hands-on activities including arts and crafts, pumpkin painting, face painting, and much more.
Pet Parade
The Pet Parade is a growing annual attraction at New Freedom Fest and something you and your family will not want to miss! 2:00 PM on the trail in front of the historic New Freedom Train Station. Nothing could be cuter than the Pet Parade benefiting Animal Rescue, Inc. Costumed animals and their owners parade through the entire New Freedom Fest grounds as bystanders snap pictures and exclaim with delight. All species are welcome.
Take A Ride On The Trains
Take a ride on the Steam Into History Civil War train! The Old #17 faithful replica of the Civil War steam engine that carried Abraham Lincoln to deliver his now famous Gettysburg Address will not be used for this year's rides at the fest. The Pennsylvania RR 7580 diesel will be in use as the locomotive instead. These same tracks carried Lincoln's funeral train two years later.
The Stewartstown Railroad Company will offering rides on the Speeder Cars heading south, too!
Food
A varied selection of excellent food will be provided for sale from regional restaurants including crab cakes, pit beef, pulled pork, burgers, fries, kettle corn, fancy cookies, ice cream, smoothies and much more. Various soft drink beverages will be available for sale.
---